The Annual House Tour is one of MMPCIA's most important fundraisers.  It's also a lot of fun! 
Our theme this year is Old Places, New Spaces. Since the first house tour some 25+ years ago, Harlem in general and the Mount Morris Park area in particular have seen both thoughtful new builds and the restoration of iconic neighborhood treasures. This tour will take you inside some of each − from cutting-edge contemporaries and creative updates to classic elegance that retains the glamour of a bygone era and eclectic combinations that meld bits of all thebest. In short, the places and spaces that we call home.
Here's how you can get involved:
1. Showcase your house, apartment or condo on the tour. We need 8-10 homes each year. Is this the year to show yours?! It's actually a lot of fun having people Oooh! and Ahh! at the details and what you've done–or not done to your place. It's also a good kick in the rear to finish some of those lingering to-dos you've been meaning to check off the list for years. And there are a lot of other good perks. Download our Homeowner FAQs and then give us a call.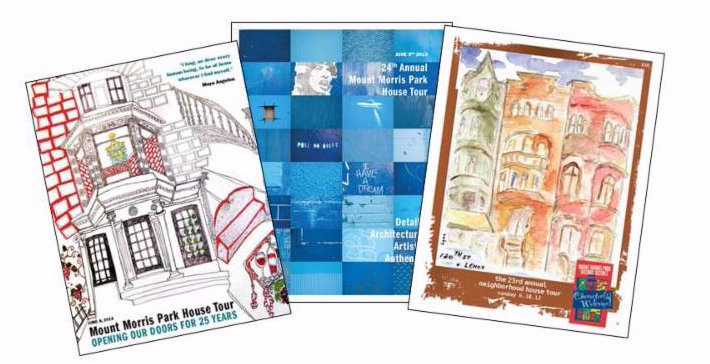 2. Advertise with us.  Promote your business or service, congratulate your child, spouse–even yourself–or honor a memory by placing an ad in this year's beautiful keepsake Guidebook. It's easy. Download the Advertiser's Packet for more information on sizes and costs. Time is of the essence. The deadline for reservations and payment is Friday, May 1st.
3. Be a Greeter.   We need 60 friendly volunteers to serve as Greeters in the homes on the day of the House Tour. Our events are successful because of our volunteers. Volunteers help us present ourselves at our best to outside guests and neighbors alike. In exchange for serving a 3-hour shift, you'll get a free Tour ticket and a souvenir T-shirt. Contact our Volunteer Wranglers and sign up today.
4. And finally–spread the word. Be sure to invite friends, family and colleagues to enjoy a fun, full day in this historic neighborhood! We'll be putting details on the website shortly about the events of the day and how to reserve tickets in advance.    

The 26th Annual
Mount Morris Park House Tour
Sunday, June 14, from 11 AM – 4 PM
Everything begins at the Tour Start:
In front of the Pelham Fritz Community Center,
18 Mount Morris Park West & West 122 Street
Email This Article